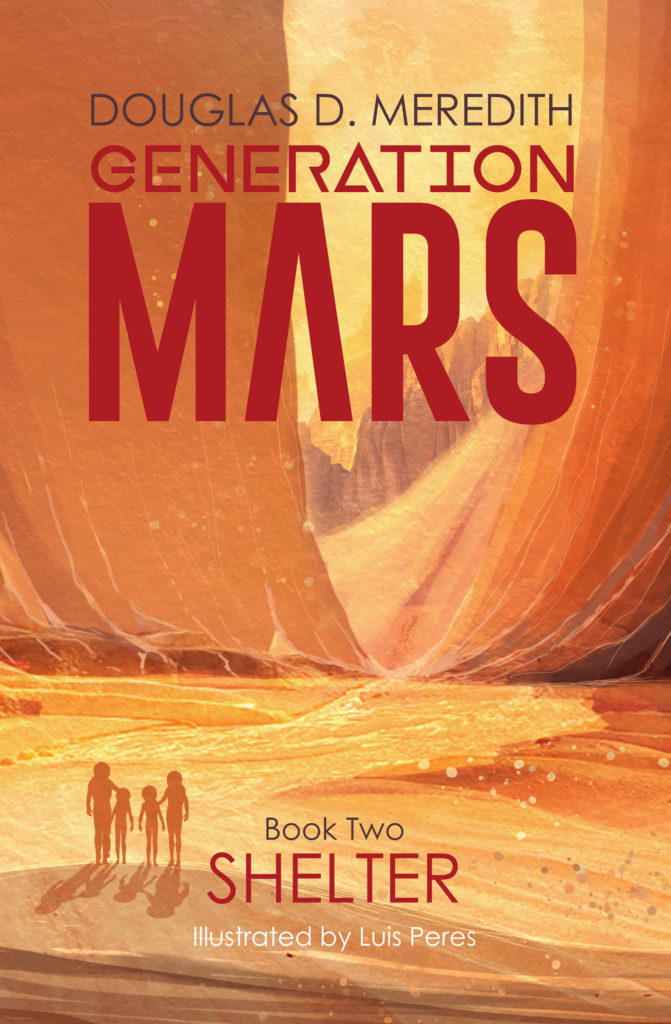 Available from Amazon
Five Star review from Readers' Favorite
Sisters Cas and Ori are among the first children born on Mars. The Generation Mars series follows their adventures as they grow up in an environment unlike any in which children have grown up before.
Each book in the series uses a fundamental element of survival as title and jumping off point: Air, Shelter, Water, Food.
In book two, Shelter, an expedition on the surface goes terribly wrong. As conditions go from uncomfortable to desperate, it falls to Cas and Ori to save the family. It's a struggle for survival in which they learn the full meaning of shelter.
Running ~31,600 words in length, plus an additional ~1500 in supplemental material, it is an illustrated chapter book targeted at grades 2-6.
Reviews
Douglas D. Meredith created this series as an introduction to hard science fiction for children. Shelter will engage children in wanting to know more about science, planets, and space, and should appeal to a variety of ages. The vocabulary isn't dumbed down but explained in a manner that makes even the more difficult concepts easy to understand. The attention to detail is precise. Meredith weaves in an undercurrent of longing for earthly things such as wanting to play on the surface, sit and look at the sky, feel the grass, and climb trees. Humor is derived from the way the sisters interact. They may have been born on Mars but they still behave like ordinary kids, such as Ori being excited about working in the crop domes or the two trying to sneak out with a soccer ball to play on the surface. Their relationship is at the heart of the adventure as their love for their family drives them forward and pushes them to be courageous. The illustrations are in black and white which pairs well with the hard science fiction genre and portrays vivid images of the landscape of Mars. This is a great resource for children as it is informative and humorous, with likable characters and an adventure that will spark interest in the genre and a desire to learn about science. Notes are featured after the adventure and include coronal mass ejections, radiation, and gene editing.
Liz Konkel for Readers' Favorite