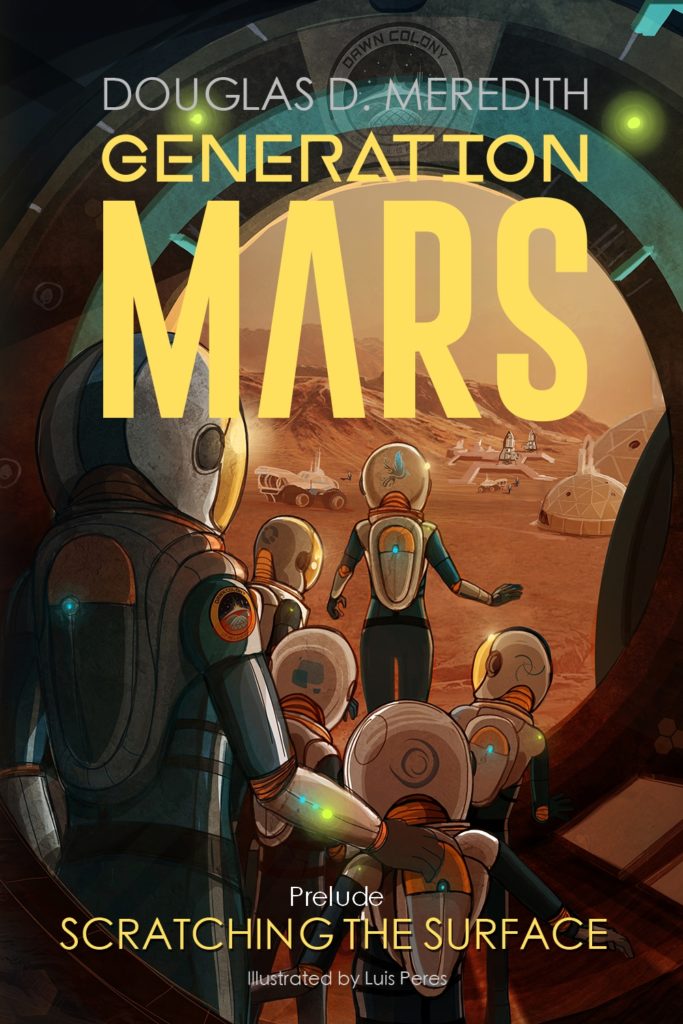 Available from Amazon
Featured in Emily Lakdawalla's Recommended Space Books for Kids, from The Planetary Society
The Generation Mars series begins with a prelude: Scratching the Surface. This book serves as a sort of prologue to the series, introducing characters and themes that will be revisited in later books.
Told through the eyes of two sisters, it describes the emergence, literally and figuratively, of this first generation of native Martians. The colonists live underground as protection against the solar and cosmic radiation that reaches the surface of Mars. The kids have never been to the surface. And then they get their chance to step outside.
It's not action-packed sci-fi. It's not silly kid-book fantasy. It's a quiet story of two sisters, and the developing culture they represent, passing a milestone that is bigger than anyone expected.
Running ~2900 words in length, plus an additional ~1800 in supplemental material, it is an illustrated chapter book targeted at grades 1-4.
Reviews
I'm usually hesitant to accept self-published novels for review, but Scratching the Surface is a rare well-told, well-edited story that proves the rule. It's a genial story for readers new to chapter books about the first children on Mars and their first school field trip from their underground habitat to the Martian surface, involving their first exhilarating view of an open sky. And there's a few poignant moments that will hit readers' parents harder. The details of the habitat, its life-support systems, and surface suits are rooted in realistic science and technology, with further details explained in a postscript to the book. To top it off, Peres' illustrations are gorgeous. I'm looking forward to further installments in the series!
Emily Lakdawalla, Senior Editor and Planetary Evangelist,
The Planetary Society
It is fantastic to see a children's science fiction novel incorporating actual science into its storyline! This book gives a good glimpse at what life could be like for humans on Mars in the future, presented through the eyes of a young girl.
Dr. Tanya Harrison, Mars scientist
GENERATION MARS fills the "hard science fiction" hole in early middle grade bookshelves…I hope this book will hook some of our young readers (and parents) who aren't as easily entertained by the silly stuff.
Vi Figueroa, teacher (Mrs. Fig's Book Reviews)
Every step in a new journey can be uncertain. But these first steps move us into the future we wish to create. Small steps by sisters Ori and Cas, part of the first cohort of children born and raised on Mars, are just what humanity needs to grow beyond Earth. Through their eyes, readers can feel that they, too, are Generation Mars.
Laura Forczyk, owner of Astralytical